Applies To:
KnowledgeSmart Principal Admins, Users & Invites Admins.
Common Causes/Issues:
KS administrators can upload a list of users into their dashboard and capture additional data against each user record, which can be used for searching and grouping Users, Invites and Results.
Solution Overview:
Here is how to import your user data, which results in a batch upload of multiple users into your KnowledgeSmart dashboard.
To access the Import user data function click on Users > Manage user data from the vertical menu on the left of the screen. You will arrive at this page: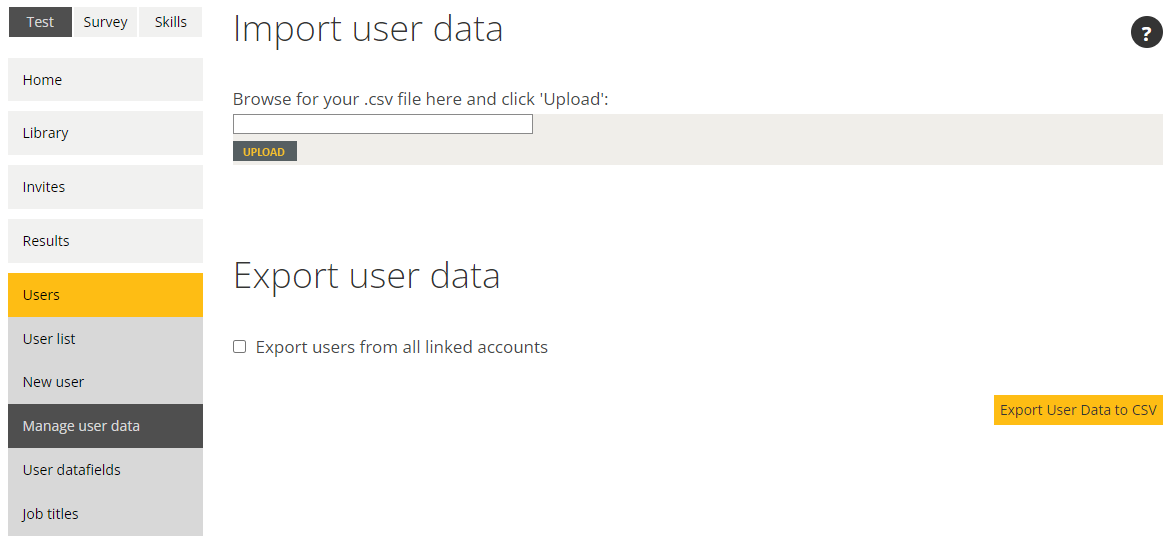 A template for uploading user data is available for download by clicking on the '?' icon. This opens a text window where there is a link to the template in .csv format.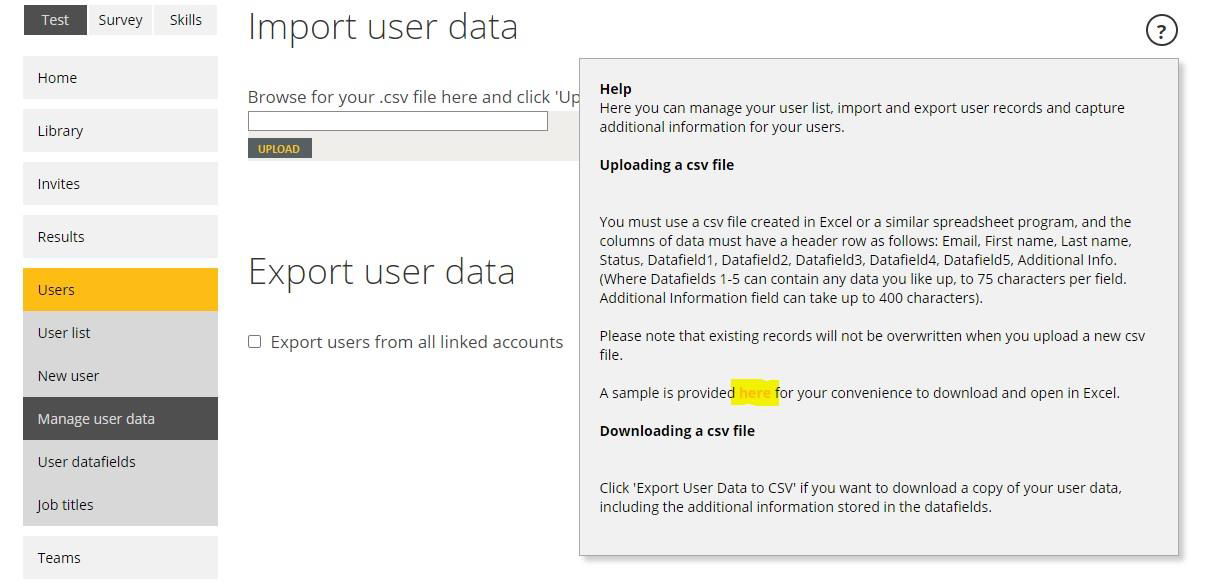 Populate the sheet with your user records and save as a .csv file.
(Review the User Datafields article for guidance on populating your user datafields).

Note: The following columns are mandatory and must contain data. All other columns are optional. UserFirstName, UserLastName, UserEmail, UserStatus, AccountName.
Browse for your saved .csv file and click Upload to import your user list into the KS platform.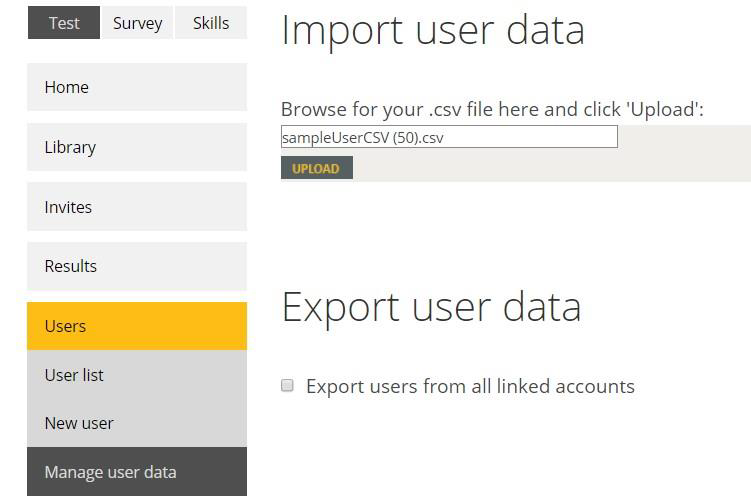 Click Add/Update users to complete your import of user data.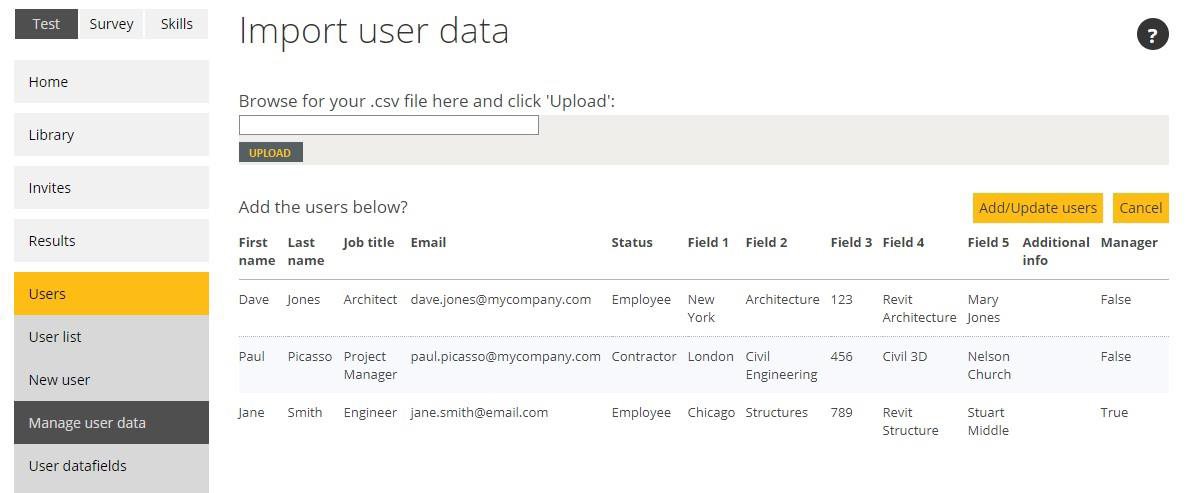 A message will appear giving you the option to send new or updated users a welcome email. This is optional and the choice is yours.

Go to the Users > User list page to view your user records.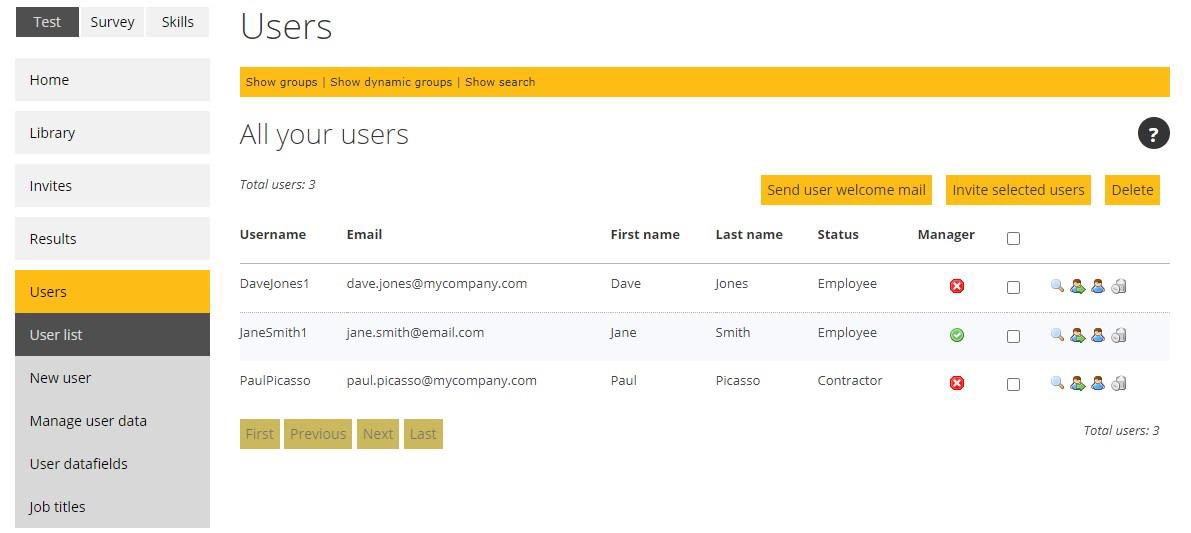 Select the Click to enable as manager icon to assign Manager status to a user.
To view/edit records on a per user basis, go to the Users > User list page and click on the View or edit user data (magnifying glass) icon.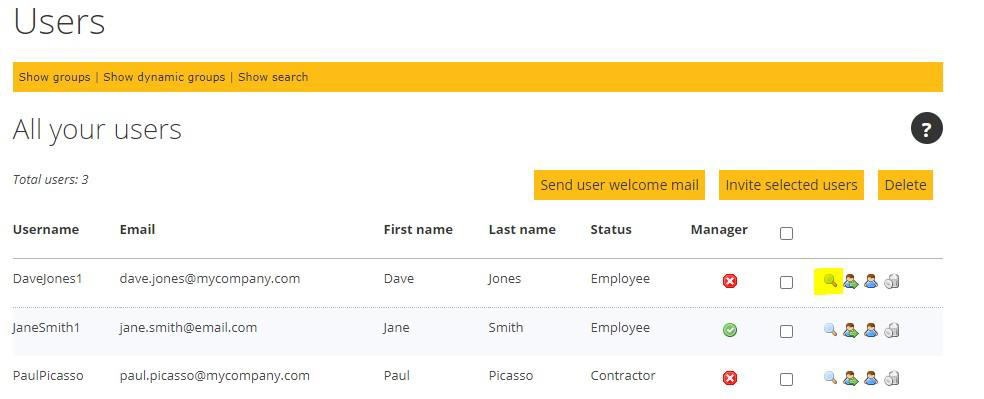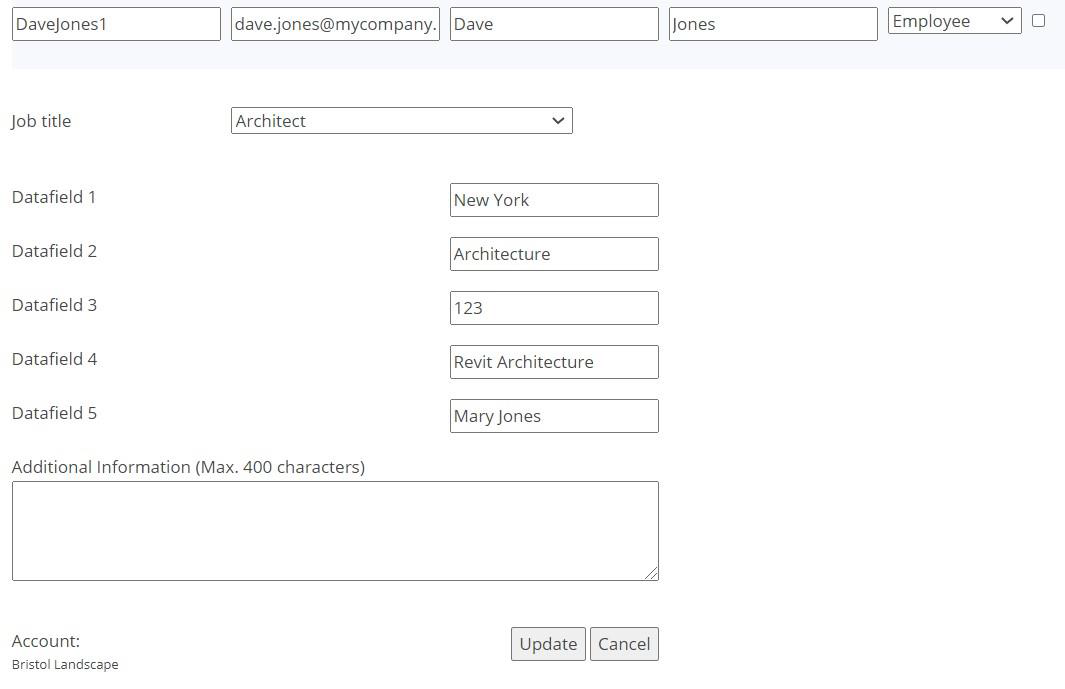 To remove a user record, check the box next to the username and hit the Delete button.
New users will automatically be added to your user list when you send them a test invite.
You can also add users individually on the Users > New user page.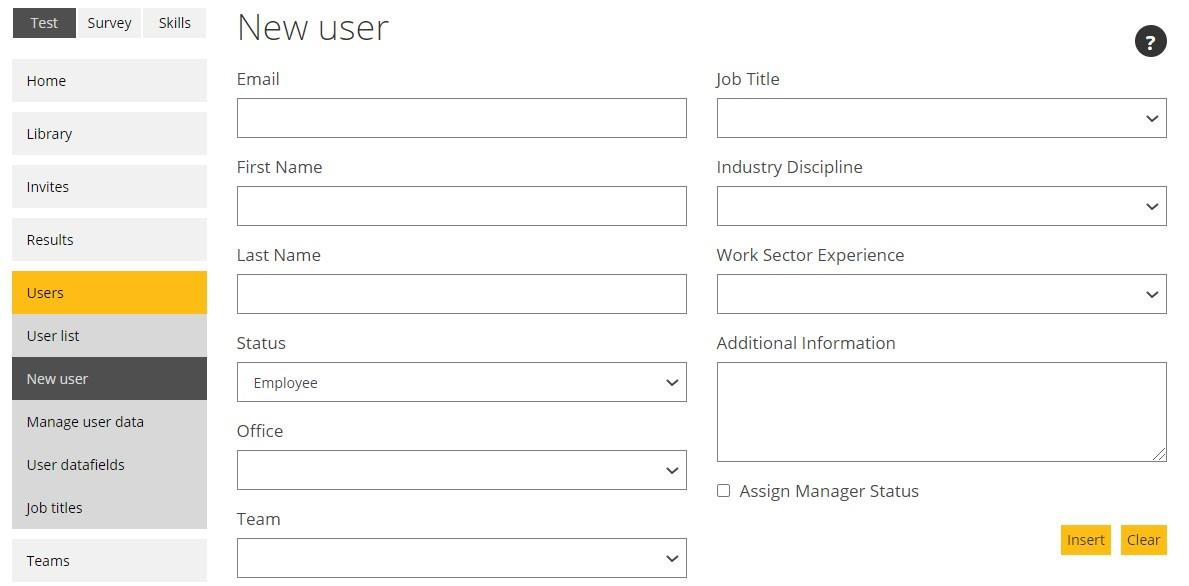 Exporting User Data
To export your user records, from individual or linked accounts, go to Users > Manage user data and use the Export user data tool.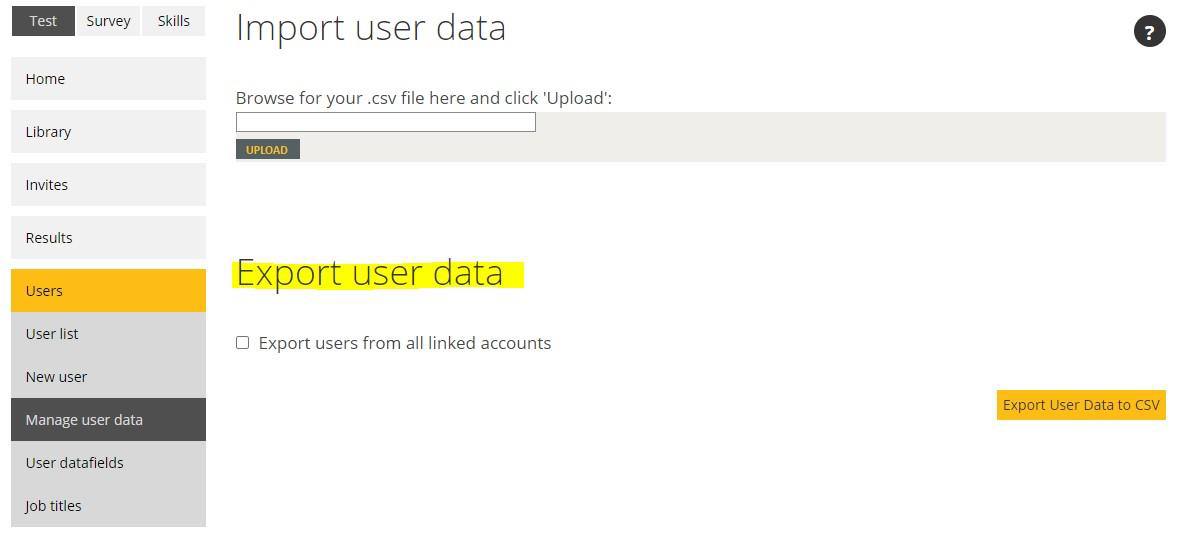 Editing Job Titles
You can review and edit a list of Job Titles on the Users > Job titles page.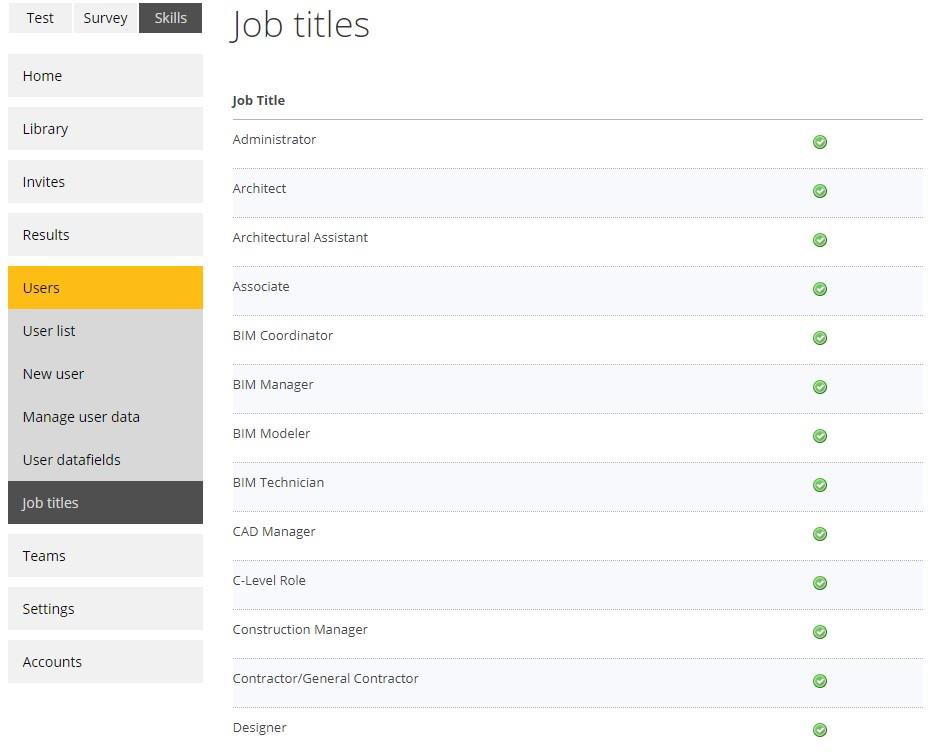 Add new job titles using the custom field at the bottom of the main list.


That's it - you've built your KS user list. If you subsequently upload a new .csv with additional user records, then the new list will merge with the existing user records.
Please note that changes made to the data on the Users page will have no impact on your Results data.
(Review the Individual User Pages article for information about individual user dashboards).
Related Article(s):
KnowledgeSmart individual user pages
Understanding KnowledgeSmart user datafields
Still Need Help?
Downloadable Files: