Applies To:
KnowledgeSmart Principal, Results and Library Administrators.
Common Causes/Issues:
You would like to have an option to hide Skills assessment overall score and stage score data for different types of users.
Solution Overview:
You have the ability to hide score information on Skills assessments reports, on a per account basis. This setting works for different user types, so you can decide which types of users can (or cannot) see their Skills assessment scores (and stage score breakdown).
Let's review the features in more detail.
There are 5 check boxes on the Test > Settings > Test feedback page.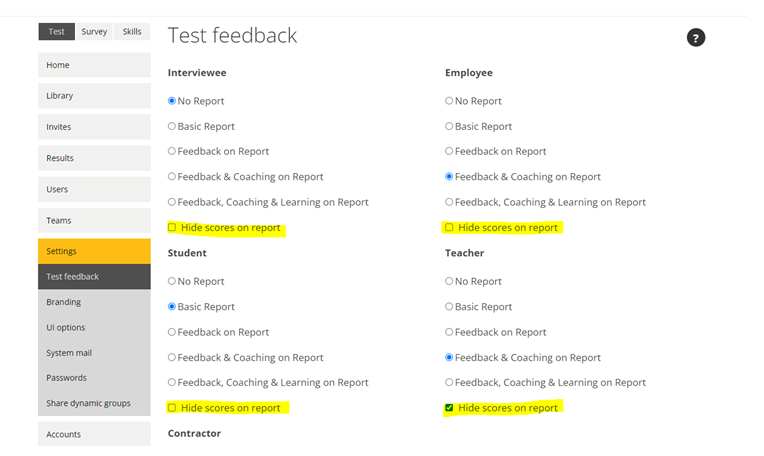 You can choose to hide Skills assessment scores for different user types on a per account basis.
Here's an example of how this works:
Send an invite to a user with a status where the 'Hide scores on report' option has been selected.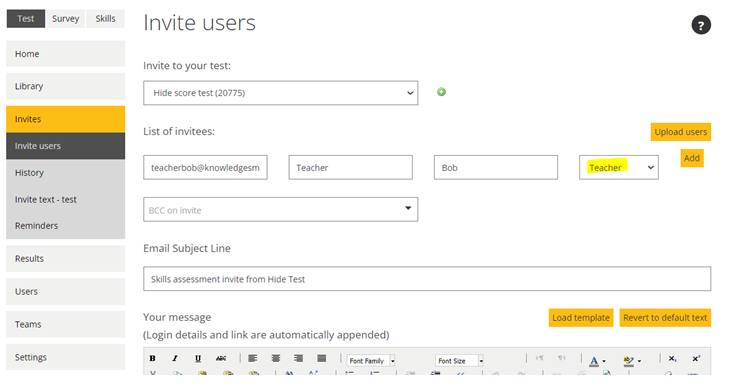 At the end, the user can view their report, which does not show an overall score value, or individual stage score values:


If permitted, the user can view question feedback, correct answer choices, coaching notes and training tags:
The results email received by the user does not show a score value: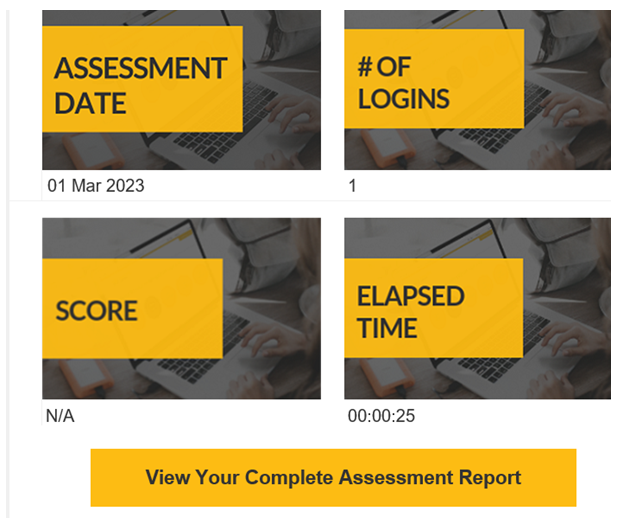 When the user completes their Skills assessment, the overall score will only be visible to account admins on the Results > Data page:

When an admin clicks on the score link to view the report, this is what they will see: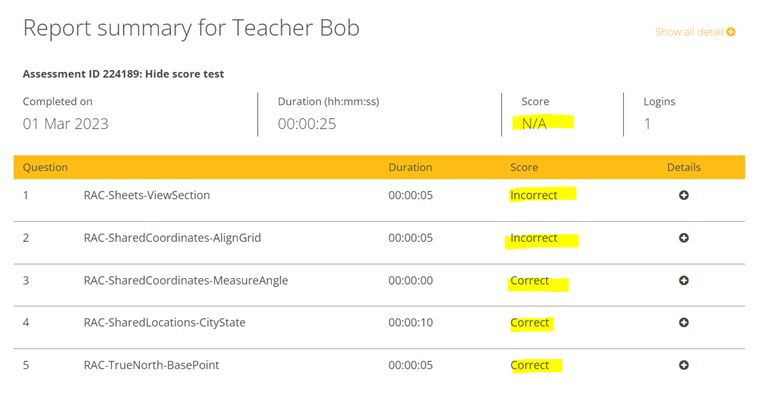 The default options are: 'Correct', Partial score' and 'Incorrect'.
These labels can be edited on a per assessment basis, on edit test step 4 (test settings):
Check the 'Hide score text' box and the custom fields will display: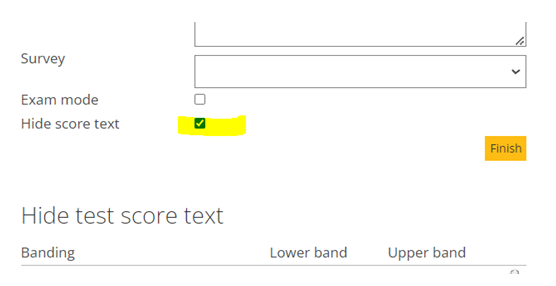 The score labels can now be edited: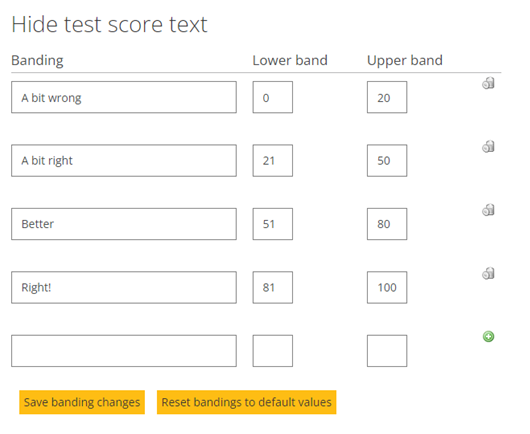 If the user logs into their personal user page, they will not see a score for their assessment on the 'My Assessments' page: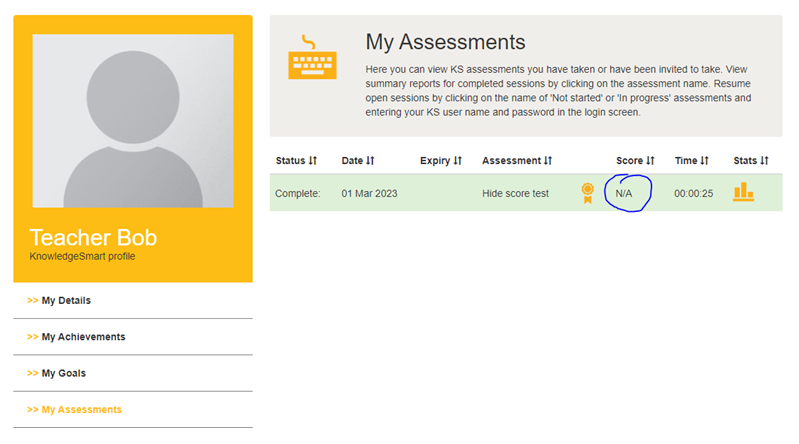 The certificate view does not show a score: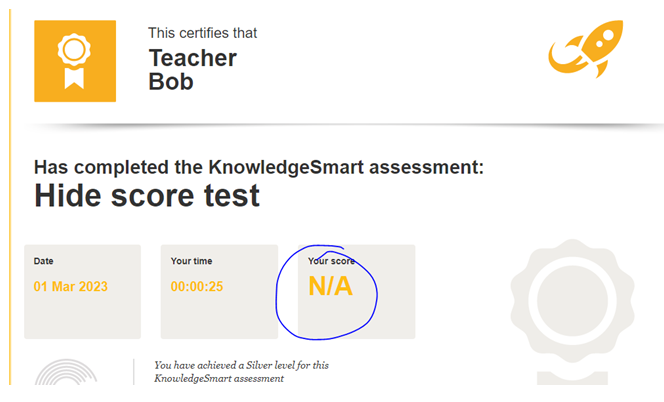 The 'My Assessment Scores' page view does not show a score: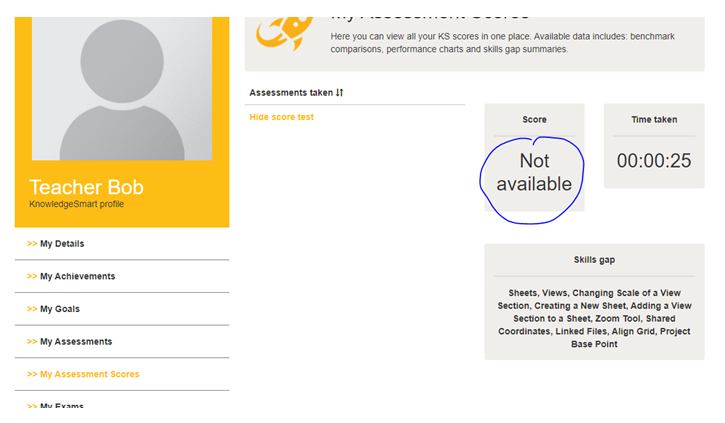 A couple of things to consider:
If the 'Hide scores on report' setting is toggled on, this will hide score data for all results on the account. This includes all existing Skills assessment results and any future results.
If you want to have a mix of hidden scores and visible scores, this is possible. You can create a linked account for hidden scores and any assessments for which you want to hide the final scores should be taken from that account, with the appropriate settings in place.
If you toggle off the 'Hide scores on report' setting, all results will be visible once more.
Related Article(s):
How to change Skills assessment feedback settings
Exporting KnowledgeSmart Skills assessment results data
KnowledgeSmart Skills assessment results analysis in Power BI
Understanding KnowledgeSmart linked accounts
Still Need Help?